Vikings Cheerleaders Auditions | Minnesota Vikings – vikings.com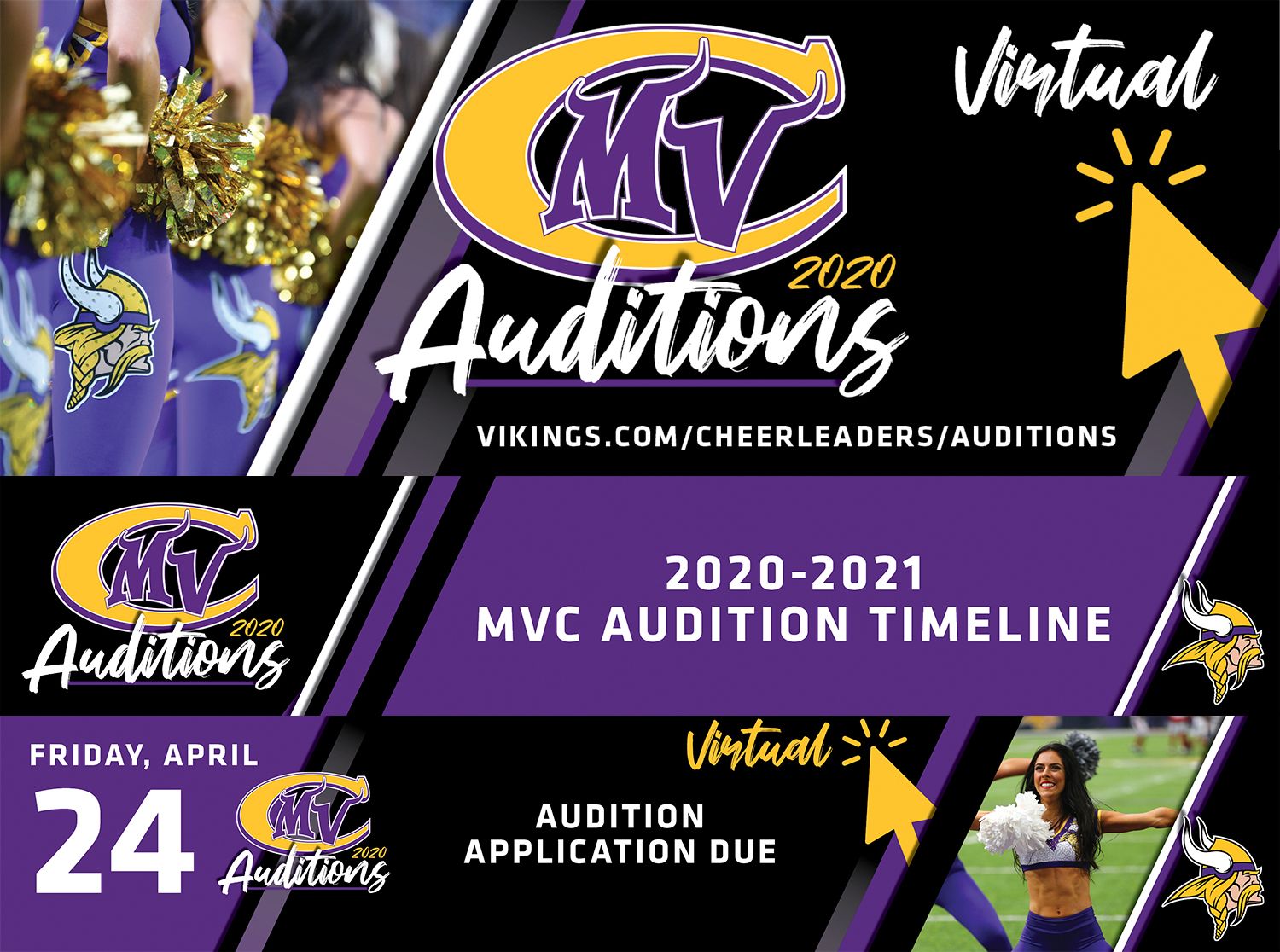 Friday, April 24th | Virtual Audition Applications Due
Please submit the online audition application below as an "intent to audition." A registration payment of $25 is also due at the time of application submission. Your audition applications must be submitted no later than Friday, April 24th – 12:00pm (noon) CDT. Only candidates who apply will be eligible to receive the choreography link for the first round of the audition process.
The Application window is closed to any further submissions.

Monday, April 27th | Virtual Audition Choreography Link
All eligible applicants will receive an email link with choreography and instructions on how to submit material for the first round of virtual auditions. Applicants will learn the choreography on their own and prepare a personal audition video.

Friday, May 1st | Virtual Audition Choreography Videos & Headshot Due
All candidates must submit their choreography videos to the designated site (this information will be sent by email to eligible applicants). Videos will be due by Friday, May 1 - 12:00pm (noon) CDT.** NO EXCEPTIONS! All videos will be evaluated by Minnesota Vikings staff/judges for accuracy of choreography, technical ability, skill level, style and showmanship. A headshot is also requested for identification purposes.

Monday, May 11th | Training Camp Finalists Announced
All candidates will receive an email whether they have been chosen to advance or not by or before Monday, May 11 - 5:00pm CDT.** Feedback on video submissions will not be provided. Judges decisions and scores are final. Training Camp is closed to the public. You must have qualified and been selected for Training Camp through the virtual audition process listed above. Training Camp Finalists will also be announced via Social Media.
Training camp finalists will receive an email with more information as well as next steps. Finalists will need to learn additional choreography and take part in virtual interviews with MVC Coaches and possible additional judges. Details will follow, once finalists are selected.

Dates TBD | Training Camp & Final Auditions
Because of the developing situation it is unclear at this time exactly what week we will be conducting in-person Final Auditions. All finalists will be required to attend our two-day final auditions in person in order to be eligible to be chosen as a 2020 Minnesota Vikings Cheerleader. We will give as much notice as possible. As soon as it is safe for staff and candidates to join us at Twin Cities Orthopedics Performance Center for the remainder of the audition process, we will host finals. Final Auditions will potentially include performing all the training camp routines, new choreography, a skills challenge, football and team knowledge testing and group interviews.
*In the event that the NFL season is delayed or cancelled, it is understood by all applicants that a team may not be selected from Training Camp candidates.
Audition Requirements
·     Must be a high school graduate as of June 2020.
·     If selected, must reside or be willing to commute to the Minneapolis metro area for all rehearsals, appearances, games, etc.
·     Must be able to attend ALL rehearsals, games and other related activities. Practices are held on Tuesday, Thursday and Sunday evenings.
·     Must have a valid passport.
·     Must be able to show age verification and a diploma, as needed.
·     Must provide a completed and signed application and a release/waiver.
·     If selected to the team, a one-year contract and commitment are required, along with agreement to abide by rules and guidelines and the employee handbook.
·     $25 Registration Fee is due at the time of application submission. *Non-refundable.
·     Questions? Email: mvcauditions@vikings.nfl.net
What to expect if you are selected as an MVC:
·     PRACTICES: Weekly practices for dancers are Tuesdays and Thursdays (6:30 – 9:30 pm) and Sundays (5:30 – 9:30 PM). Practices will end when the football season ends. There may be other scheduled practices or events to prepare for special events or projects and may fall during the offseason. Advance notice of practice times will be provided.
·     GAMES: Most games are scheduled at noon on Sundays. There may be games scheduled later a Sunday or on Monday, Thursday or Saturday night. There will be 10 home games. In general, MVC do not perform at away games.
·     PART-TIME: As a reminder, this is a part-time position and team members are paid for all their work. This includes rehearsals, game day, appearances, photoshoots, meetings, etc. 
·     APPEARANCES: Each MVC is required to do at least 2 appearances per month. We will work with you to find appearances that work with your schedule.
·     PERSONAL WORKOUTS, TECHNIQUE, STUDY and REVIEW TIME: To be a successful MVC you should maintain your own personal workouts and allocate time to prepare (practice technique, review routines, etc.) for performances.
·     MVC PERKS: MVC perks will vary year to year, but typically include hair salon visits, tanning salon visits, nutrition planning, health club membership, social events, travel, photo shoots, etc.
·     ADDITIONAL EVENTS: (not guaranteed for all MVC)*Dates are tentative.
·     Calendar and team poster photo shoots
·     Junior Cheerleader Programs
·     Military Base visits and tours (some may be overseas)
·     Regular appearances on TV and Game Day broadcasts
·     Community appearances and charity events
·     AND MUCH MORE!
ATTENDANCE: Attendance is very important. If you are selected as an MVC, then your team is counting on you to be present for practices, appearances and performances. We understand that there may be times where MVC members are unable to make a scheduled event. Our attendance policy allows three absences total throughout the one-year contract.